The upcoming UFC Fight Night Vegas 72 will showcase an eagerly anticipated bantamweight showdown between Song Yadong and Ricky Simon. Let's thoroughly assess both fighters, evaluating their strengths, weaknesses, and making a prediction on the fight's outcome.
UFC Fight Night
In the context of UFC (Ultimate Fighting Championship), "Vegas" typically refers to Las Vegas, Nevada, which is often the chosen city for hosting many UFC events. Las Vegas has become a popular location for UFC fights due to several reasons, including its central location within the United States, the presence of numerous top-tier venues, and its association with combat sports and entertainment.
Las Vegas has emerged as a major hub for UFC events, hosting high-profile fight cards, such as pay-per-view events, championship bouts, and other significant fights.
The term "Vegas" in the context of UFC often signifies the event's location and is used as a shorthand reference for fights taking place in Las Vegas, Nevada.
UFC Fight Night Vegas 72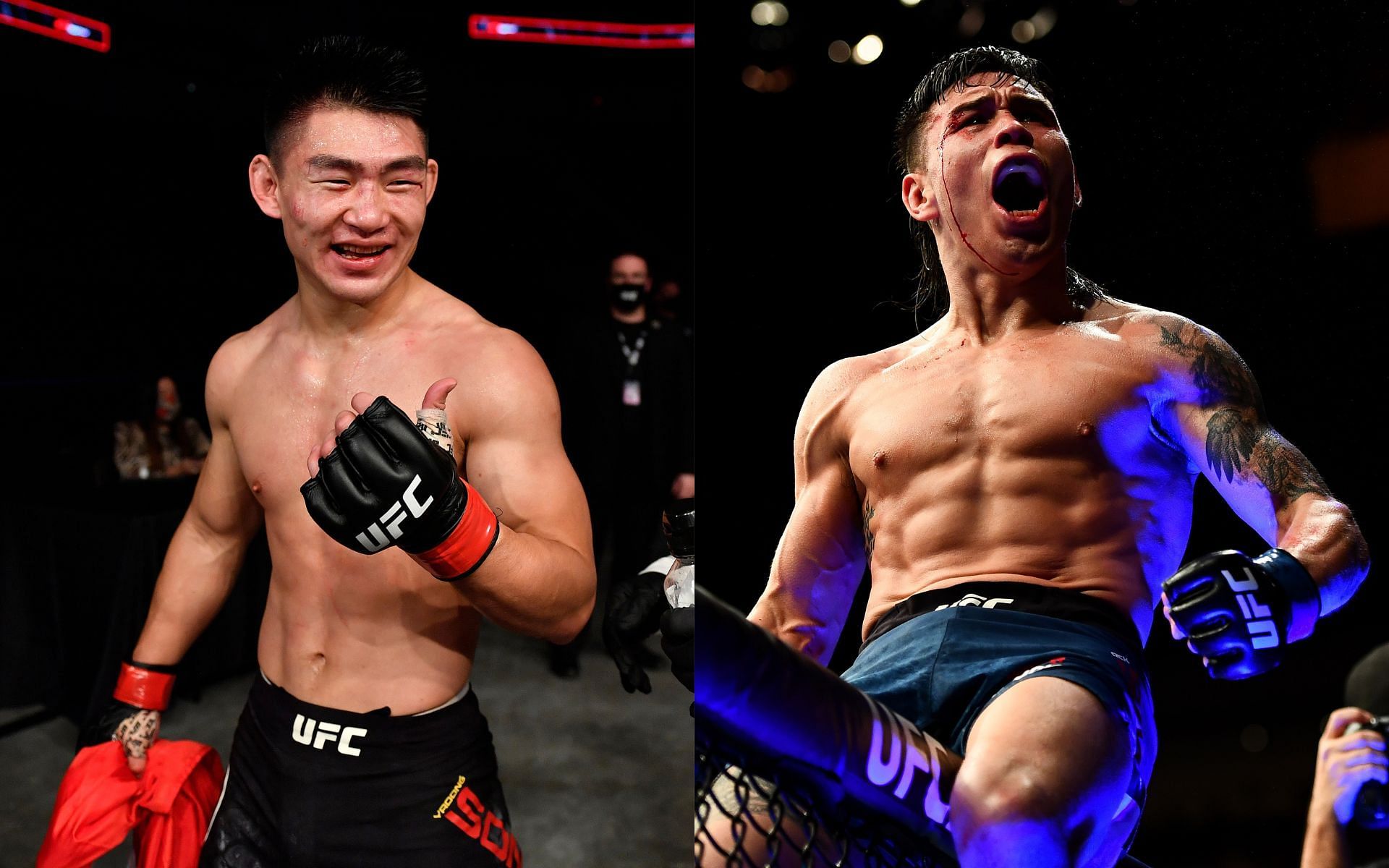 UFC Fight Night Vegas 72
Song Yadong (left) and Ricky Simon (right) (Image credits Getty Images)
UFC Fight Night Vegas 72, Song Yadong (left) and Ricky Simon (right) (Image credits Getty Images)
Song Yadong
Song Yadong is an emerging talent in the UFC bantamweight division, boasting a professional record of 17 wins, 5 losses, and 1 draw. The Chinese fighter is renowned for his striking acumen, with formidable knockout power in his fists. Yadong's aggressive style, combined with his excellent footwork and head movement, allows him to dictate the pace of the fight and counter with precision.
Ricky Simon
On the other hand, Ricky Simon is an experienced and resilient fighter with a professional record of 18 wins and 3 losses. The American fighter is recognized for his grappling and wrestling prowess, showcasing a solid base and unyielding grappling offense. Simon possesses a versatile skill set, with proficient striking and submission abilities. His tenacity and ability to persevere in challenging bouts have earned him a reputation as a tough competitor.
Song Yadong vs Ricky Simon Match Prediction
In terms of strengths, Yadong holds an advantage in striking, employing his powerful punches and aggressive approach. He maintains a high pace throughout the fight and showcases elusive footwork and head movement, making it difficult for opponents to land clean shots.
Simon, on the other hand, possesses exceptional wrestling and grappling skills, which he can utilize to control the fight on the ground and wear down his adversaries.
However, both fighters also have their weaknesses. Yadong has shown vulnerabilities in his grappling defense, particularly in defending takedowns and submissions. Simon, on the other hand, has displayed weaknesses in his striking defense, leaving himself open to strikes while attempting takedowns.
As for the prediction, this bout is expected to be a captivating clash of styles. Yadong will likely strive to keep the fight standing and capitalize on his striking, while Simon will aim to take the fight to the ground and leverage his grappling skills. If Yadong can successfully defend Simon's takedowns and keep the fight upright, he may have a strong chance of securing a knockout victory with his striking prowess. However, if Simon can effectively take Yadong down and control him on the ground, he may secure a decision victory or even a submission win.
Ultimately, the outcome of this fight will hinge on which fighter can implement their game plan effectively, capitalizing on their strengths and minimizing their weaknesses. It is poised to be a closely contested matchup with significant implications in the bantamweight division. UFC fans can anticipate an exhilarating showdown between Song Yadong and Ricky Simon, and only time will reveal the victor.
Read also: UFC Vegas 71- Ultimate fighting championship Results
YOU MAY LIKE THESE STORY